I wanted to point out some particular ways of judging — and why I find drawing lines so helpful — using the "mystery" gelding from yesterdays posting!
Back-to-front notice how the angle of the gaskin (delineating between point of buttock, stifle to hock) is extremely obtuse? Ideally you want an angle closer to 90 degrees, which will indicate a hind leg with good spring and power. An acute angle may indicate a horse with sickle hocks or another conformational issue. This is one indication that this gelding's hind legs are very straight — a trait called "post-legged".
Moving on, we can see there are other indications of this gelding's extremely straight hind-end in the triangular shape of his stifle joint. Ideally it should have a rectangular shape from the side (lime rectangle). Additionally, the line alone the flank (from point of hip to stifle) should be near-perpendicular.
The "ideal" shoulder is considered to be a 45 degree angle (half of 90 degrees, if that helps you visualize!), though there are definite breed differences in that. Stock-type horses tend to have more upright shoulders, and as you can see this gelding follows that trend (green lines). His humerus (point of shoulder to the bony point of the elbow) is fairly long considering the rest of his conformation, and is gradually sloped. His neck does look like it could use more muscling along the top line. Overall his front end conformation is good!
I personally do not like this gelding's head — his eyes are small and he has a fairly thick-looking jowl, giving him a oafish look to his expression. His ears appear particularly small and dainty, which is often sought after.
Now it's your turn! What job do you think would suit this horse best?
What are this horse's major faults?
Minor faults?
Good points?
What disciplines would this horse be appropriate for, given his conformation?
Other side of the same gelding:
What do you think?
I have very few notes on this APHA horse, so I'm offering it up for the general community to practice on. Unknown age and unknown prospects.
Current Mood:

chipper
Breed: "Warmblood" (no notes on what type, or if it was just AWB) and TB cross
Job: Sport horse prospect
(
Comments under the cut...
Collapse
)
What do you think? What would you use her for if she was yours?
Age: Nearly 4 year old mare
Current Mood:

accomplished
Age: 5 year old gelding (palomino!)
Current Mood:

bouncy
Age: 6 years old
Current Mood:

cheerful
What's the thing about the way this horse is built that bothers you the most?
For me, it's all one word: unbalanced. Which is a shame in any horse, but particularly in a stock-horse type where balance is essential for their typical job.
(
More about this particular mare and drawn analysis under the cut...
Collapse
)
Now I do think that there are some decent APHA out there, so I did a quick search on craigslist of all places, and found this 10-year-old buckskin (so we even match in the color!) gelding:
Bad picture compared to the above, obviously, but it is clear that this guy is more balanced, and has a nicer hindquarter at the very least. He also clearly has a job that he excels at — he's marketed as a trail horse and the rides he has been on are listed in his ad. Whereas the mare above is listed in terms of she "could"....
Breed: Quarterhorse
Job: I
think
he was a roper/cutting horse in his youth. Now retired.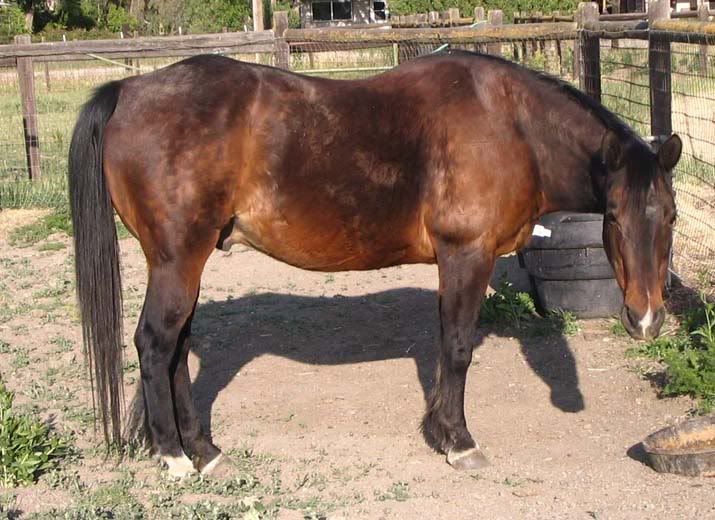 (
Further pictures and my analysis underneath this cut!
Collapse
)
So what do you think about him?
Age: 20+ (not sure on exact age, but his teeth say older than 20)